Today's UFO Sighting at Lowry Air Force Base
March 12, 4 PM
Seen by a dozen people, including an experienced
Air Force Lt. Col Field McConnell (reports on video)
I (Neil Slade) instantly recognized it as similar to a UFO I first saw in October of 2001 take this link). Others seeing it on this day first thought to be a weather balloon, then recognized
to be not at all recognizable or explainable due to its IMPOSSIBLE movement...
Small WMVideo 4 MB
Bigger WMVideo 9MB
REAL VIDEO 6 MB multistream
My written notes that day:


AMAZING-- hot off the press-- well actually, right off my DVX100A professional movie/video camera.

Today we were filming our present documentary, due in about a month. Our location was a large field in the middle of Lowry Air Force Base (now open to the public).

We had spent the day filming various scenes, including over a dozen air-force jets in the museum on the base. We came outside around 4 PM to shoot an outdoor scene, when suddenly one of the film crew spotted something unusual in the sky.

I looked up, and instantly recognized it to be the same UFO silver sphere I had seen taking my dogs out for a walk about five years ago in December of 2001- again, bizarre enough- in the exact same part of the sky. This time, I was right underneath the object, and I had a decent camera in hand.

It was VERY VERY hard to get in the viewfinder being so bright outside, and the object was obviously miles away, but huge.

This time, however, along with me were many witnesses, included an Air Force Lt. Col, Field McConnell who commented on the sighting on video. In the background of the audio portion, you can hear my friend simultaneously calling in our observations to the National UFO Reporting Service on his cell phone.

Although we taped the object, it still doesn't look like much-- its just a big VERY bright silver globe in the sky, WAYYYYYYY up high.

What gives it away as a non-man made object (that we can identify) is several things:


1) Its NOT a weather ballon because of the absence of a trailing tail

2) It made a 180 degree turn in the sky while we watched it AGAINST the wind, and did not follow the clouds at any level

3) It was certainly not a plain or helicopter, both from its perfectly round shape, and the slow speed at which it flew.

We watched it for 10-15 minutes total as it passed out of sight intothe south-- then we went on with our scheduled filming.


* * *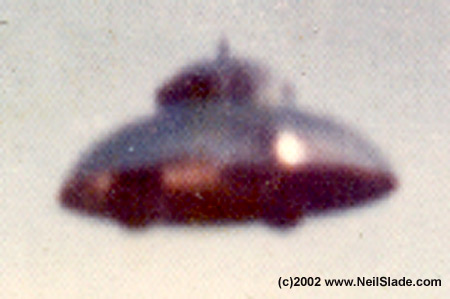 Updated East Denver Silver Sphere UFO incidents (see video top of page for latest)
This is also the OFFICIAL home page for
STAN ROMANEK
Stan's information has been temporarily taken off line while he prepares material for his feature film about the most amazing and important UFO/Alien/Government information yet, involving hundreds of witnesses, astounding video and photos, hard physical evidence, scientific discoveries, and more. No bull.
For upcoming details please join our Brain Info Newsletter Group or contact neil@neilslade.com
Join our group and you will receive great Brain Info Updates, Fun Stories and Brain Tips, generally once or twice a week. This list remains strictly confidential and will NOT be used for any other purposes whatsoever.
More at

The AMAZING Brain Music Adventure
and The Brain Book and Music Store

Turn on your own INFINITE brain potential for pleasure, creativity, intelligence,
and even natural spontaneous paranormal abilities.
Real brain power- not make believe hocus pocus.