I recently scratched up the bottom plate of one of my boutique guitar pedals- as sold, they don't put feet or a pad on it- and before I realized, from placing it on a wooden floor for a few moments, I put marks on the bottom as shown.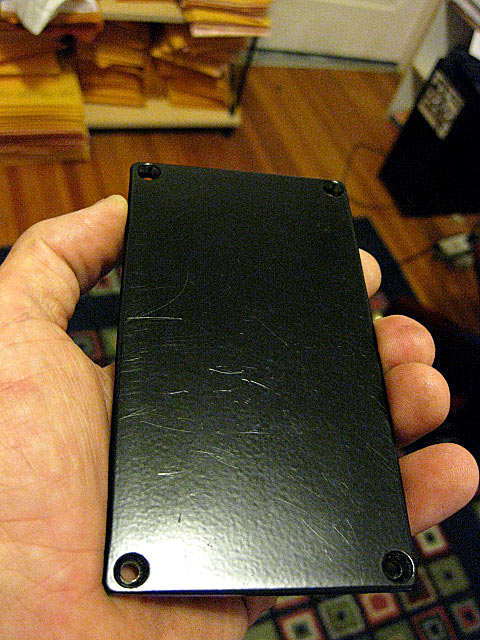 These aren't particularly deep grooves, and some people wouldn't mind them a bit on the bottom (like me) but others might want to repair such a surface to mint condition- and then of course, put a rubber pad or feet on the bottom so it doesn't happen again.
Of course, you may have damaged the top or side of your pedal- or any other metal object- and this would be more apparent.
I'll show you how to simply restore the pedal to new condition, in just a few minutes.
I've been doing MAJOR refinishing for decades. You can see my guitar collection, and my refinishes below:
The first thing you must take into account is the TYPE OF FINISH on the object you are going to repair. Most guitar pedals have a POWDER COAT finish- on that type of surface you can use LACQUER as I use here-- but you could also use polyurethane and accomplish the exact same end results.
The difference is that lacquer dries completely within minutes. Polyurethane must sit overnight to become really hard- so the job will take longer- because before sanding (although you only do this slightly just before the final coat)- the finish must be completely dry first.
You DO NOT want to use clear acrylic enamel for this, because it NEVER gets hard enough to sand. Just use lacquer or clear polyurethane only.
Lacquer is NOT compatible with ENAMEL finishes or over polyurethane. It will make enamel wrinkle up, and it won't stick to polyurethane. ONLY use lacquer on previously lacquered surfaces or powder coated surfaces. If you are not sure- test a small area first.
Polyurethane WILL work over enamel and polyurethane finishes. It probably will stick to lacquer if you first wet sand the surface with 600 grit lightly.
In the guitar photo above, Guitars #1, 2, 5, 8, and 10 are LACQUER. The others are polyurethane. Know what you're working with first. My pedal is powder coated- so either will work on this. Again- lacquer is MUCH faster, and what I used for this project. Polyurethane is more durable-- but a poor finish for acoustic instruments, and it takes a LONG time to dry compared to lacquer.
Bear in mind, you should put feet or a pad on a pedal bottom anyway-- and if you do that- heck, you may not even want to bother fixing the bottom finish of your pedal anyway!
Lacquer is the premier fast and durable finish for many items, it's what Martin and every premier guitar builder uses on every instrument. Before polyurethane, it's what everyone used on everything-- including show cars, and fine furniture. It's inexpensive and available everywhere- I got this can for $5 at Ace Hardware. Note, it's NOT polyurethane or enamel- It's LACQUER. I used semi-gloss here to perfectly match the finish on my Kanji, the sheen is identical. Satin would be too flat,
gloss would be too shiny.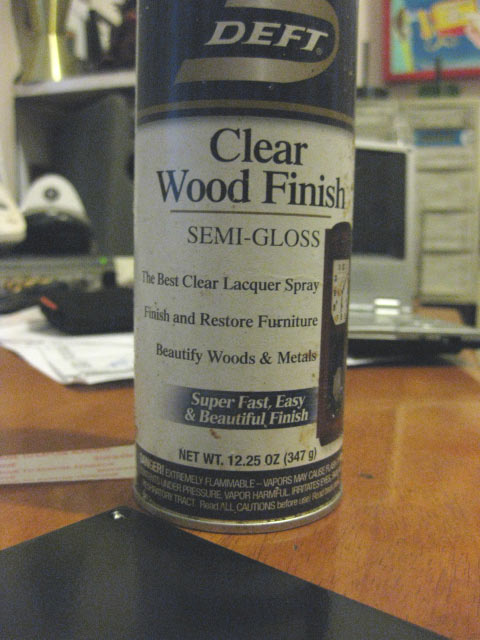 So- Black is the WORST color for showing scratches, so this is an excellent demonstration. It will work even better (if that's possible) on a lighter color like Tan, which does not show scratches as badly.
Again, here's my guitar pedal bottom, after exactly a few moments on the floor :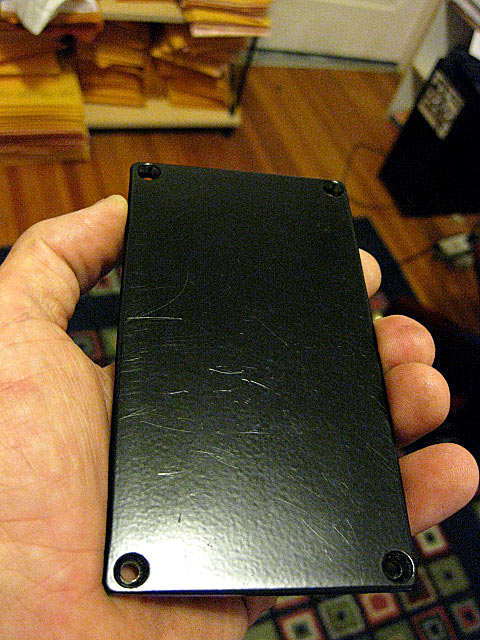 THE FIX:
First, lightly sand the surface with 1000 or finer grit WATERPROOF sandpaper. Get the paper slightly wet first, then dry off the surface you sanded.
Next, I sprayed on three quick coats of the semi-gloss lacquer. It dries in minutes-- seconds if you use a hairdryer. (stay at least 10 inches away however.)
That's the beauty of lacquer- extremely fast, and durable.
I sprayed three quick light coats- slightly wet, but not thick. Do not MIST it on. If you do, it won't LEVEL out smooth, and you'll get a rough texture. Don't POUR it on either. Just put on enough so it looks wet.
Lacquer will dry very quickly, and you only need a couple of minutes between coats. I used a hairdryer, and drying was nearly instantaneous.
After the third coat was dry, I then I took a piece of 2500 grit black waterproof sandpaper, $1-$2 at the hardware or paint shop and went over it quickly (it will dull- but totally flatten the surface), and sprayed one more coat of lacquer. You could use coarser grits, but don't use anything coarser than 1000 grit. Go lightly. You are just trying to gently even off the surface.
Don't sand the last coat, and let it air dry.
As you can see below - the results are 100% perfect restoration, as good as new.
I've used lacquer many times over the past 20 years, and just restored a $1000 dining room fine furniture cabinet that had far worse scratches then this- to absolutely mint new, undetectable fix.
As you can see below, the finish matches perfectly, and the scratches and surface is as good as new, and the scratches are
totally gone forever.
Do this yourself, and you'll learn something, and be proud of your restorative miracle.
Of course, after fixing a pedal you MUST put feet or a pad on it anyway to keep from marring it up again, and frankly, you could put a pad on it, and you would never even know it was ever scratched anyway and not even have to refinish the bottom.
THE STUNNING RESULTS: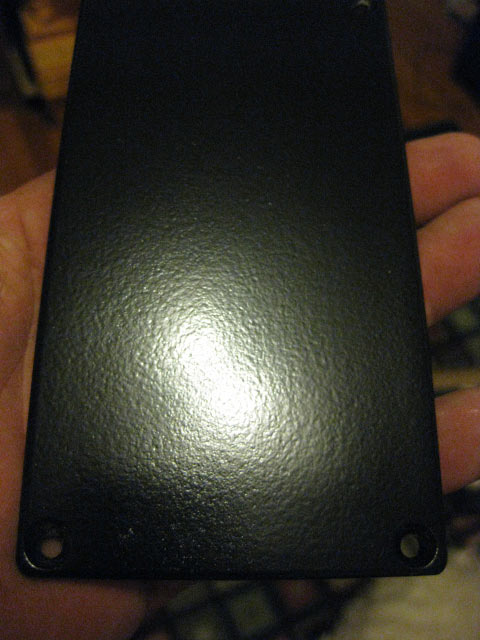 If you have guitar scratches- be more careful next time after you've fixed it.
If you have a pedal- throw a pad on it first before using. You can stick a pad on with clear silicone glue, and it will always peel off later if you want to remove it, and you won't harm the surface.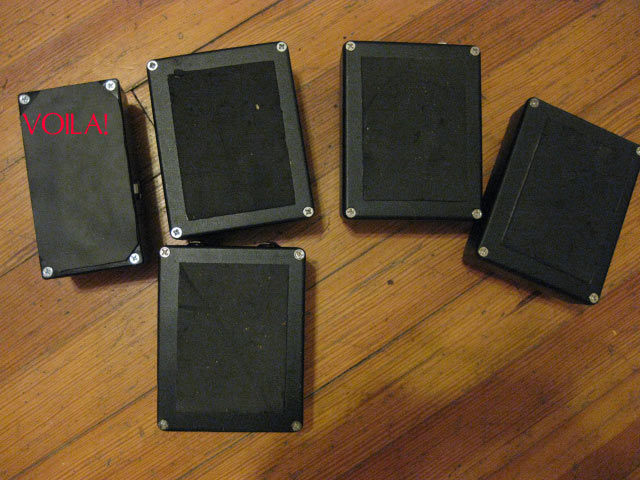 Back to www.EasyPaintYourCar.com