---
CONTINUED NOW...............
Super Subminiature Cameras
MANY OF THE CAMERAS SHOWN BELOW ARE NO LONGER MADE- but I've left the information here for other reasons--- keep reading ....
Technology can be amazing- with limits. There are several super subminiature cameras out on the market, and a few of them actually work pretty good considering their size.
A couple of aluminum bodied cameras by JVC and Casio actually can take usable good photos if the conditions are perfect, but they are more expensive than the typical teeny cameras you will find on the rack at Best Buy.
The subminiature plastic ones are generally priced at $50 to $75 dollars and double as PC web cams. They are fun to keep in your pocket, but in no way does the quality of these cameras compare with a normally sized point and shoot or larger camera. Only a couple of these actually work OK however in producing anything but the tiniest web quality photos.
Although the JVC AG50 pictured above in my hand worked okay if everything was just right, it would not focus on anything closer than five or six feet, and was fairly limited by its 1.3 megapixels. Generally a hard to find camera, overpriced, and not recommended -- keep going........>>>
Just for laughs, I picked up the Mustek Mini3 for $50 on the web, and to my astonishment outperformed the fancy smancy JVC in all kinds of ways. It has a F2.8 lens, 1/15-1/4000 shutter speed, 16MB SDRAM memory (30 pictures at 2 MP), 2 minutes of 320X240 15-20 frames per second video, and a 2.1 megapixel CMOS chip, which the camera converts to a very usable 3 MP. AND, you can focus the lens to take close ups as near as about 15 inches. It weighs 1.2 ounces!
Amazingly, it will work in normally lit rooms (even at night) without flash if you've got a steady hand and a steady subject. The battery is non-replaceable lithium internal, and a non-flash memory that holds the pictures providing you don't let them sit in the camera for more than a week. Resolution can be selected at 1, 2, or 3 MP, If you just want to try out digital photography with software you've already got on your computer, and any old inkjet printer-- hey, go for it!
Keep in mind that this or any of the cheap sub-miniatures are very dependant on the right conditions to work properly, a good percentage of your photos will be either VERY artsy, or total washouts. But then, some will turn out fantastic (see samples below). The Mini 3 viewfinder shows about 15% more than what will actually photograph- so I fixed this with a little 1/16" cautionary tape placed on the outside edge of the viewfinder for more accurate framing. You have to hold the Mini steady for at least a second after clicking the picture, or it will distort the photo- hold it steady, and don't point it towards the sun.
If you're spending more than $50 or so for a subminiature camera, you could probably get a regular sized digital camera that will perform much better for a little more money. Note too, that Mustek makes a very small LCD camera for more money with fixed lens, and I haven't heard anything really great about it.
I STILL OWN THE CAMERA BELOW, AND ITS GREAT FUN - MANY "Keychain" SUBMINIATURE CAMERAS LIKE THIS CAN STILL BE FOUND FOR AROUND $10-$20, BUT MOST ARE NOT CAPABLE OF THE QUALITY OF THIS PARTICULAR CAMERA WHICH IS NO LONGER BEING PRODUCED. Sorry!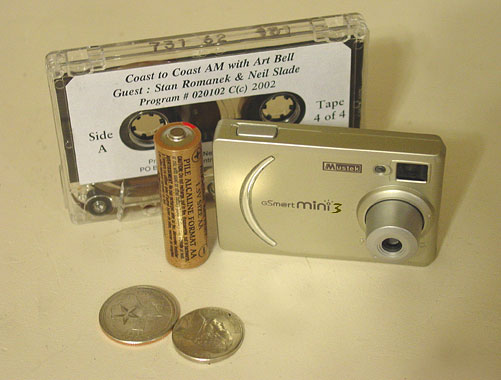 The first photo at the very top of the first Brain Photo Fun Page (my dog) was taken with the JVC camera, made to look like a Vermeer painting.
Here's a couple more sample photos- one normal, one processed to look like a watercolor: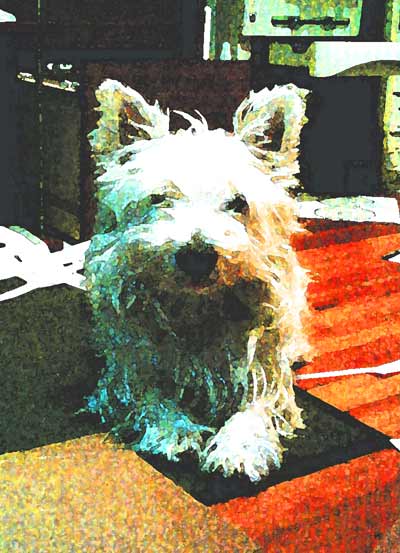 Here's what the Mini3 cranked out, shrunk to less than half size and greatly compressed here for the web-- a close up below, still compressed, but at normal enlargement.
And another from the Mini3, again compressed greatly to fit on this page- Not bad for $50 or so.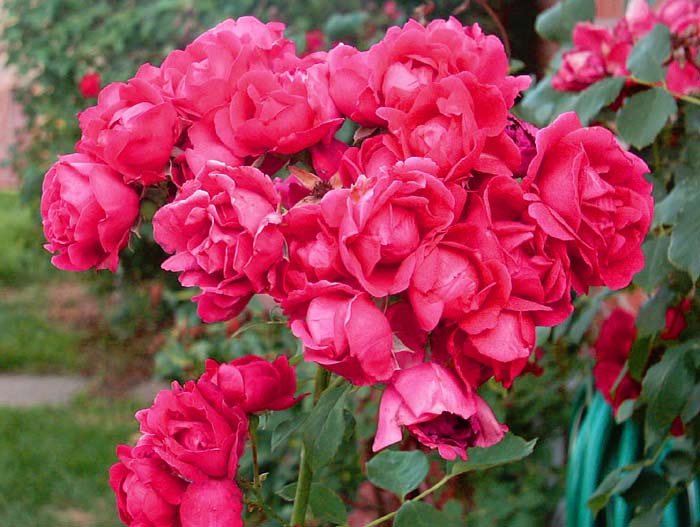 Remember, however, conditions and luck must be perfect to get photos this good with this camera- and a steady hand.
Most every other sub-miniature cheapo plastic camera I've tried (and I've tried many) did not work nearly as well -if at all- as the Mini3. This is really the only $50 camera I would recommend for anyone.
Another Mini3 photo, compressed for web-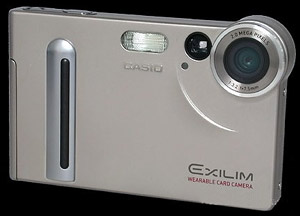 Casio still manufactures extremely slim credit card sized cameras like this older model on the right, and Sony makes a model or two. But despite even 8-12 MP resolution, none performs as well as a barely slightly larger Canon SD1000 which has better imaging, color, and user interface, and it clearly remains my favorite sub-compact camera, capable of truly excellent imaging. s
Back to inexpensive and/or plastic subminiatures:
There's a James Bond 1 Camera literally the size of a matchBOOK, at $75-100 that fits inside a Zippo lighter. Bad software, almost unusable pictures except under perfect conditions. Same story for the Radioshack FlatPhoto, Logitech PocketDigital, SiPix Blinx, and a host of others.
In general however, remember that by spending $100 you could get a really decent regular size camera that would perform much better. Spend $150 -$200 on an Olympus or similar quality digital, and you can replace your regular film point and shoot for good.
---
PRINTING PHOTOS WITH OLDER INK JET PRINTERS
The 2003 and 2004 generation of photo printers are pretty amazing\- and I actually prefer 2 year old model printers over this years models because of the limitations of ELECTRONIC CHIPED CARTRIDGES which are VERY EXPENSIVE.
Granted, the quality of the ink in the new carts is more permanent, but that would be the ONLY reason to replace a working two year old printer with a brand new one. Do you really need PERMANENT PHOTOS? Think about it. If you do, then get a printer than uses ink that will last 25+ years. If not, given the right photo printer, even using select aftermarket bulk ink, your inkjet photos will last a long time, will be waterproof, and may last longer than you do. And the present models all make decent photos- although the best of the bunch are the Canons.
Older regular inkjet printers will not print photos as good as "photo" printers. Yes, there is a difference. Hop over the Best Buy or where ever and see the quality these printers are cranking out now. It is very likely your 6 year old printer will not produce photos anywhere near this quality, even if you use the best paper in the world.
Even if your older printer does make acceptable photos, be aware that printing your photos easily on your older or regular inkjet printer will not result in photos that are as light safe as your regular film photos- unless you are using specific photo quality ink. Most ink jet printers made before 2002 do not or can not use ink that is as durable as film printed photos, and if you mount your pictures in a frame or on the wall for a year, you may see them fade rather quickly.
In this case, get a newer printer, or keep older model inkjet photos out of the light over long periods of time, or be prepared to re-print them. Photos kept in a drawer, book will be fine. Other pictures meant for permanent display should be converted to regular film printed photos, or printed with light safe inkjet ink. The new photo inkjet printers use a more lightsafe ink under good conditions. Again, see the NEW PAGE on Brain Review of Photo Inkjet Printers, Ink, and Papers. for details.
Be aware also, that even despite the rather very optimistic claims of photo ink-- inkjet prints made with regular die based inkjet ink will almost certainly not last 25 years or longer and retain their original look. Manufacturers base their life on a 30% reduction in intensity, and consider this acceptable life....!
If you're not printing photos at all, and just posting them on the web or sending email-- well then, ignore all this!
I print out relatively few personal photos any more, except on occasion. Most of my printing, and I print THOUSANDS of 8X10s, are sent to my Brain Book Customers.

---
SAMPLE PHOTOS
For standard camera photo samples from my own Sony and Fuji cameras please visit:
Fall Brain Blast and the rest of my web site at
www.NeilSlade.com (hundreds of photos throughout)
Here's some others however-
Minolta G400 before photoshop "artistic" intervention: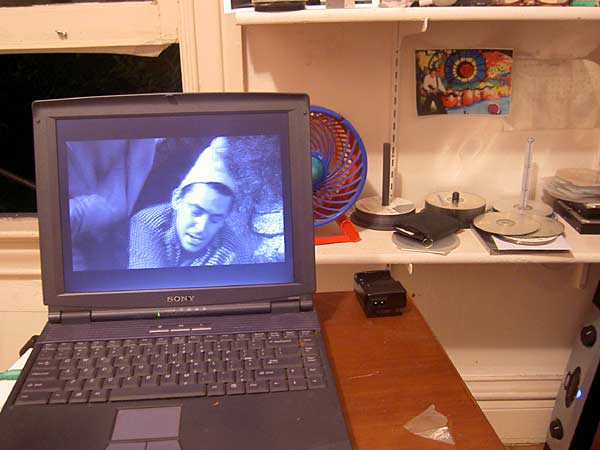 After photoshop artistic intervention:
Just for kicks, the photos below were taken with a $50 one half pixel SiPix StyleCam now out of production.
Some of these modified/enhanced with computer software. Good software is a must for inexpensive cameras-- Photoshop Elements is UNBEATABLE, and 5 Star software for ANYONE taking digital pictures. This is THE application for digital photography at home (and for many professionals).
The first two photos are processed to look like modern art paintings -
Musician/artist Eric Vincent with his Red Yoyo ("modern art" modified photo style)
High contrast edit of Eric leaving (after a recording session)
Genius recording engineer, Broz Rowland, normal photo, only 640 pixels folks, barely 1/2 megapixel.




Nice Neighbor's roses smell so sweet- note the difference between this .5 MP photo and the Mini3 3 MP version above.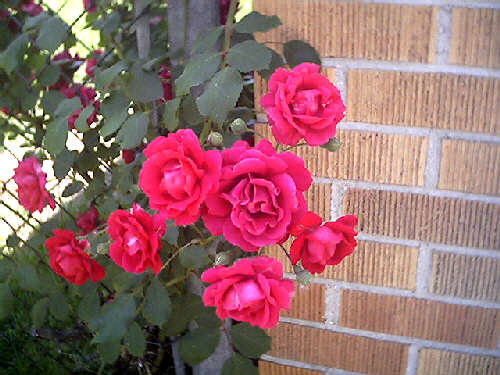 Historical photo of the aqua truck between my house and the neighbors barking dog, now destroyed by a drunk driver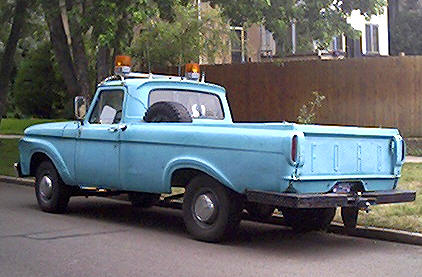 And we can't forget Chloe, Miss Licky 2002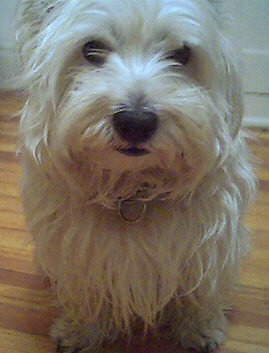 On to INKJET PRINTER STUFF you need to know
2005 Details Comparing Older Sub-compact Digital Cameras with some dated info- but with some still relevant info as well
For new cameras, see PAGE ONE of this article
---
Professional Video Camera and Equipment Do-It-Yourself Genius Projects:
DVX100 .3X DIY Semi-Fisheye Lens Project
$40 GL2 .5X GL2 Super Wide Angle DIY Lens Project
Better and Cheaper Mike Boom Pole
EXTENDED Super Camera Jib/Crane Modification
Better Almost Free Flip-Out LCD Lens SHADE for Camcorders and DVX100
English and Scottish Windpals (wind noise protection)
Back to The Library From Another Dimension